When it comes to choosing venues we know how hard it can be, especially for something like a christening or naming ceremony. Apart from wanting to find something that is comfortable for your guests, you want it to have something that really sticks in your mind for the kind of day that it is; after all, it is a special day.
We have a few basic rules when it comes to your venue and they are;
They should be big enough to fit the number of guests you have.

They should be easy to get to.

They should have a large enough area to dine.

They must include a dance floor! (optional)
Naturally, as we work across the whole of Yorkshire with catered events, we have gotten to know some great venues and work with many as well. Sheffield is like another home to the Yorkshire Catering Company; from catered weddings to business catering we have gotten to know the steel city well over the years.
What are the locations we would recommend for Sheffield when it comes to Christening? Here are just some ideas.
The Leopold Hotel
2 Leopold St, Sheffield S1 2GZ
If grand is what you are looking for, then The Leopold Hotel is the place for you. Built on the former site of a Grade II listed Boys Grammar School, the Leopold Hotel is Sheffield's only four star boutique hotel. Aside from being in awe at just how young men were educated back in the day, this hotel is perfect for those that have family travelling from outside the city as they can stay there as well as enjoy the christening on the day. What makes the Leopold Stand Out as a city centre venue is how they have also kept to traditions when refurbishing for hotel use; using pictures from the schools past to bring life and history into the fore for all visitors.
Whirlowbrook Hall
Ecclesall Road South, Sheffield S11 9QD
Whirlowbrook Hall is another fine example of what can be achieved when a business takes its time to understand what is at work in God's own country. Nestled between Sheffield City Centre and the peak district,  this function hotel is precisely what you may be looking for when it comes to location (just 4 miles outside of Sheffield), space and flexibility. There is lots of parking, complimentary wifi and a dedicated team to make sure that your venue is up to the standards you require for your special day.
Whitley Hall Hotel
Elliott Ln, Sheffield S35 8NR
This South Yorkshire institute is known across the region as a grand affaire. The 16th Century building, has buckets of charm, character and class, as you would expect! With stunning surroundings and luxury oozing from every corner, vestibule and room with lakeside views, if you were looking for something that spoke volumes and money was no option, then Whitley Hall is the place for you and your christening.
The Chimney House
4 Kelham Island, Sheffield, S3 8RY
In the week, a meeting place that pulls on the history of the city and the modernisation that has taken place over the decade to make Sheffield truly oozing with class and style; at the weekend, a venue that is used to private dining, weddings and if you ask very nicely, private functions like a naming ceremony – however, ask before deciding… but once you see The Chimney House, you will be in love with just how stunning the building is, and proud as a Yorkshire person that not everything has been lost to modernisation. A truly special building for a truly special day.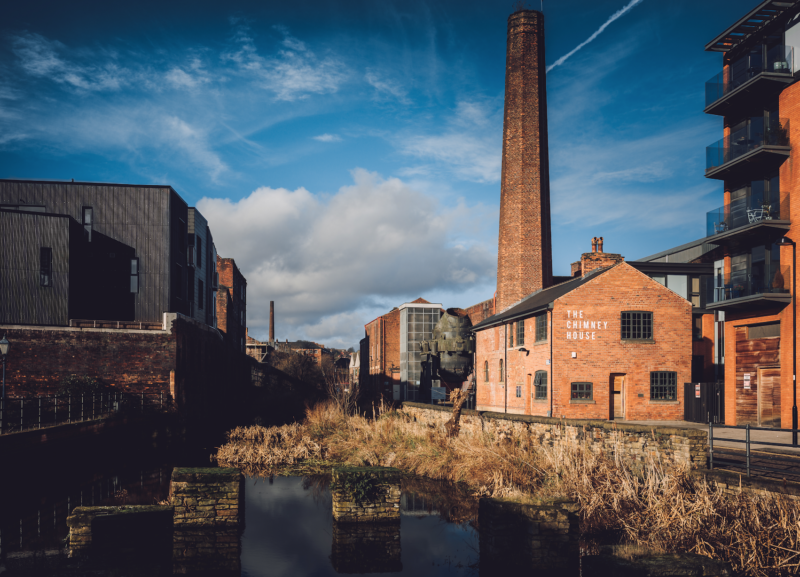 The Printhouse
21-23 North Church, Sheffield, S1 2DH
Like, The Chimney House, The Printhouse is another ode to a time gone by, when Sheffield was a manufacturing giant; it is now one of the best university cities in the country and has a booming tech industry in the area – how times have changed. Again, this former facility has been facelifted to something rather exceptional in the heart of Sheffield's Cathedral Quarter. Easy to get to and with a space that is big enough to hold parties, weddings and venues, the Printhouse must be considered for your Christening.